Village milling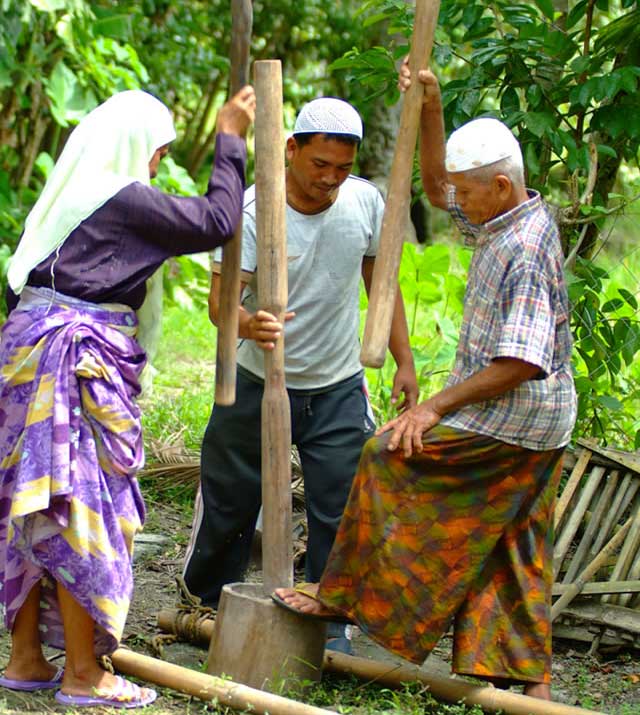 Photo: Husking with mortar and pestle
Village-type rice mills can be found in rural communities and are used for service milling paddy of farmers for home consumption.
Traditional milling
Hand pounding of paddy in a mortar with a pestle is the traditional milling process in remote villages. Pounding the paddy induces upward and downward forces on grain against grain that removes the husk and bran layers. The pounding also breaks up fissured grain. The final cleaning is by winnowing in a woven bamboo tray. The winnowing process to separate unmilled paddy grain is an art.
Village level rice mills
Village-type rice mills can be found in rural communities and are used for service milling paddy of farmers for home consumption.
Single pass, single stage mill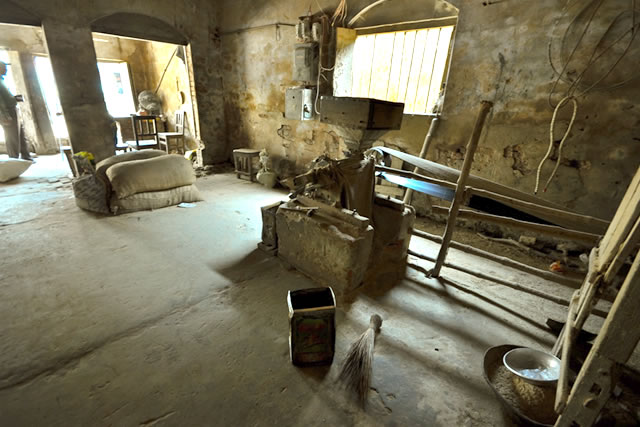 Photo: Single stage, single pass mill
The single pass rice mill is an adaptation of the "Engleberg" coffee huller from the United States, modified for milling rice. In earlier days this type of rice mill was very popular in most rice-growing countries. It is still the mainstay technology for milling parboiled paddy in Bangladesh, and in many African countries. The "iron hullers", or "single pass mills" which all refer to the same mill are notorious for breaking the paddy grain. Because of the high breakage, the total milled rice recovery is 53-55%, and head rice recovery is in the order of 30% of the milled rice. The fine brokens are mixed with the bran and the ground rice hull. This by-product is used for animal feed. In many rural areas, Engleberg mills are used for custom milling the rice requirements of households. The bran produced is left to the miller as the milling fee. The poor performance of the Engleberg mill has led governments to discourage its use and has limited further proliferation. In many Asian countries, Engleberg mills can no longer be licensed to operate as service or commercial mills.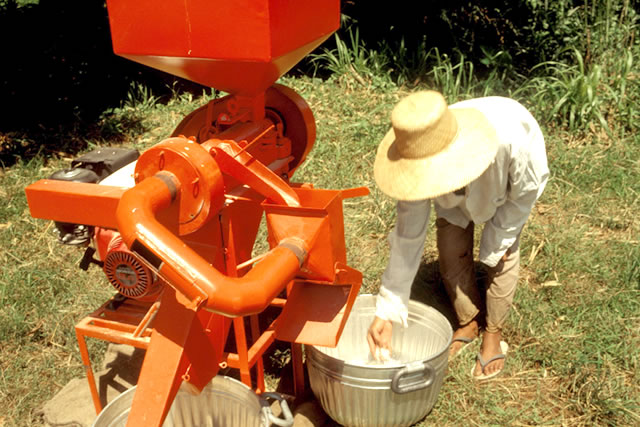 Photo: Single stage, single pass micro mill
The Micro mill is also a single pass single stage mill, which was designed for local production. All components can be produced by local welding workshops. However, the milling recovery and head rice recovery is quite low and it is therefore only suitable for milling paddy for home consumption in very remote areas where the farmers don't have access to a custom rice mill.
Two stage mills (single pass or two pass)
Two stage milling is either done in compact 2-stage rice mills, or with two separate machines for husking and polishing. Typically they have 0.5 to 1 ton per hour paddy input capacity. They are also used for custom milling services in the rural areas. A typical compact rice mill consists of a 6-inch diameter x 6-inch wide rubber roller husker, and a friction whitener. The friction whitener has a very similar design configuration as the Engleberg except that is has no husking knife. The milling performance of the compact rice mill is superior to the single pass Engleberg huller. Milling recoveries are normally above 60%.
| | |
| --- | --- |
| | |
| Photos: Compact rice mill, schematic diagram (left) with rubber roller on top and steel polisher on the bottom, compact rice mill in Indonesia (right) | Photo: Two separate machines for two stage, two pass milling with rubber roller husker on the left and a steel polisher on the right. |
Mobile rice mills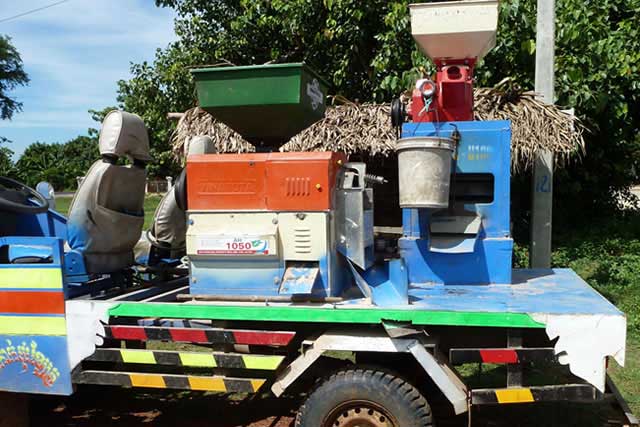 Photo: Mobile Rice Mill in Cambodia with rubber roller husker on the right and polisher on the left.
A recent development are mobile rice mills. These typically consist either of two stage, single pass mills, or alternatively a huller and a polisher mounted on a self propelled vehicle. These mobile mills can be seen in Vietnam, Cambodia, Indonesia and the Philippines. The mill comes to the customer, who does not have to transport his paddy to the mill and the milled rice back.