4. Baby trials
Mother trials allow researchers to identify a small group of varieties (3-10) that yield well under farmer management, and are chosen by farmers as desirable in the PA process. More information on varietal performance, farmer preference, and potential adoption of these varieties can be obtained in a following step called the Baby trial.
In the Baby trials, farmers are given seed samples of 1 to 5 kg (usually, 2 kg is adequate) of each of two or three of the varieties selected in the Mother trials. Farmers plant these varieties on their own farms, without researcher assistance. Researchers then visit the farms twice during the season: once to ensure that the trial was established and the varieties can be identified, and once to ask farmers to rate the varieties relative to each other and to their own variety.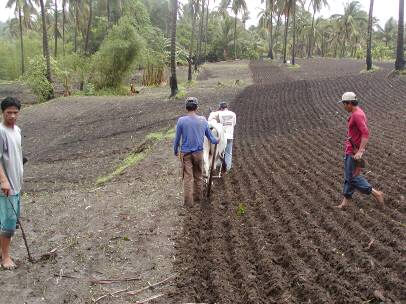 Baby trials are entirely managed by the farmers
4.1 Purpose of Baby trials
Baby trials can have two main purposes:
To assess performance of varieties on a large number of farms

To help disseminate new varieties.
In general, PVS is most useful as a data collection tool. Programs for giving small amounts of seed to large numbers of farmers, without trying to collect data, are likely to be more effective in variety dissemination.
4.2 Experimental design
In a Baby trial program, the individual farm is the block. No farm should receive more than three varieties, but the trial as a whole may include four or more varieties. In this case, each farm is an incomplete block. If there are more than three varieties in the trial, varieties should be randomly assigned to farms. The three varieties per farm are referred to as a kit.
Replication levels for Baby trials need to be high. Each variety should be tested on at least 10 farms. Researchers can expect to lose at least 25% of Baby trials due to animal damage, loss of stakes, failure to plant the seed, seed mixing, etc.
4.3 Seed for Baby trials
Baby trials should be replicated across many farms, so a large quantity of seed is needed. The production or acquisition of this seed needs to be carefully planned. Seedlot quality can have a big impact on seedlot performance, especially in direct-seeded systems. If farmers are asked to compare varieties grown from high quality seed provided by the project with varieties grown from their own seed, the comparison may be biased in favor of the new varieties.
Usually, seed for wet season trials should have been produced in the previous wet season, and stored as farmers would store it. If dry season seed is used, it may be necessary to break dormancy. Assuming dormancy is successfully broken, fresh dry-season-produced seed may have better germination and vigor than wet season seed, so care must be taken when comparing the performance of new varieties and farmers' own varieties in Baby trials.
4.4 Recruiting and identifying villages and farmers
Villages should be chosen to be representative of the target region, production system, land types, ethnic group, etc. The support of local government and extension officials, farmer groups, and local NGOs should be obtained in a planning meeting before the wet season. It may be easiest to have Baby trials in the same villages as Mother trials.
Choosing farmers to participate in the trial is quite simple:
Participating farmers should be rice growers

They should have a strong interest in participating

They should include representatives of the main ethnic and social groups in the community.
4.5 Distributing the kits
Kits should be prepared before they are handed out to farmers. In each bag of seed, at least 2 stakes with the variety name should be included, to permit varieties to be identified easily after planting. The stakes can be color-coded for easier identification.
Farmers receive kits during an organizational meeting in which the objectives and procedures of the trial are explained. During this meeting, the stakes should be shown to farmers, and it should be carefully explained to them that correct placement of the stakes in the plots is critical to the success of the trial. A list of kit numbers and the names of the varieties in each kit should be taken to the organizational meeting. The name and address of the farmer receiving each kit should be recorded.
Other socioeconomic information (ethnic group, farm size, land type, etc.) can be recorded for each participating farmer. However, as with any data, it is important to have a plan for the use of this information. Data that will not be used should not be collected. In Baby trial programs including many farmers, these data can be used to determine if different groups of farmers need different types of varieties.
4.6 Planting the Baby Trials
Farmers plant the Baby trials themselves, without the help of researchers, at the same time as they plant the rest of their crop. No special layout or plot size of the Baby trial kit is needed, but the varieties should be planted near each other to facilitate comparison. Farmers should use their normal land preparation, fertilizer rate, and seeding rate for the Baby trial. Farmers must be sure to put the identifying stakes in the plots immediately after each one is planted.
4.7 Visiting the baby trials
The first visit
After the trials have been planted, each one should be visited by researchers to ensure that it has been planted and properly staked.
The researcher should record details of the land type on which the trial is being grown, and any problems that can be foreseen (e.g., one of the varieties may be planted in an area shaded by a tree). A simple map showing the relative positions of the plots of the 3 varieties should be drawn. This can be very useful if the stakes are lost.
Click on the icon to see a sample form that can be used to conduct the baby trial 1st visit

in Word

in PDF
The second visit
Each Baby trial is visited between flowering and harvest (preferably close to harvest). The researcher should record the condition of the trial and any problems (e.g. animal damage) that can be seen. Farmers are asked to rate each variety for yield, and for their overall opinion of the variety.
The following rating scale is convenient::
1 = Much better than their current variety
2 = A little better than their current variety
3 = The same as their current variety
4 = A little worse than their current variety
5 = Much worse than their current variety
Such ratings are easily converted to numbers, and can be statistically analyzed.
For each variety, farmers are also asked if they plan to grow the variety next year. These ratings and information about the condition of the trial should be recorded on a form that clearly identifies both the farmer and the kit he or she received.
Click on the icon to see a sample form that can be used to conduct the baby trial 2nd visit

in Word

in PDF
The third visit or post-harvest meeting
After harvest, a meeting of participating farmers should be held in the community. Farmers can be asked to rate the varieties again for yield and overall preference. Ratings for eating quality can also be obtained if farmers have started to cook the rice.
A group discussion on the performance of the varieties should be held, and farmers should be asked to talk about the good and bad features of the varieties.
Click on the icon to see a sample form that can be used to conduct the baby trial 3rd visit.

in Word

in PDF
4.10 Data analysis
Analysis when all varieties are included in each baby trial
The statistical analysis of quantitative data from baby trials is very simple if all varieties are included on each farm. Variety means over trials can be calculated and presented with no adjustment. The LSD for differences among cultivars can be calculated from a standard 2-way ANOVA, with cultivars and farms as factors.
Analysis when there are more varieties than can be planted in a single baby trial
Baby trials should test no more than 3 varieties per farm. More than 3 varieties may be included in a baby trial program, but only 3 can be tested on any given farm. In this case, 3 varieties should be chosen at random for testing on each farm. This means that comparisons between varieties are partly confounded with differences in the mean yield levels among farms. If there are large yield differences among farms and replication is limited (4 replicates per variety or fewer), farm effects can obscure the value of genotypes, and least-squares means should be estimated.
However, if each variety is tested in many baby trials (10 or more), then a simple calculation of means over trials will give accurate results. In either case, the standard errors for variety means over trials, and a significance test for the effect of cultivars, can be estimated using a statistical software package that contains the restricted maximum likelihood (REML) algorithm, such as SAS, Genstat, or ASReml.. A two-factor analysis is performed, with varieties considered fixed factors and farms, random.
4.11 Village assistants
If resources permit, it is very helpful to hire a village assistant to help with farm visits and data collection. The assistant can help organize meetings and train farmers, once he or she has been trained.
The village assistant can be a literate farmer or a student who is the child of a participating farmer. A small salary (pay for one or two days work per week) should be provided to the village assistant.
4.12 Who owns the seed from the trials?
The participating farmers own the seed from the trials. They do not usually receive any other payment.
If researchers need seed for dissemination or further testing, they should purchase it from the farmer at a fair price.