1. Strategies for choosing parents
Particularly in the early days of modern rice breeding, many varieties that became widely used by farmers were developed from crosses between parents that were exotic to the region in which they were later released.
For example, Mahsuri, once the most widely-grown rainfed lowland cultivar in South Asia, was derived from the cross Taichung 65/Mayang Ebos 80. Neither of these cultivars was used as a rainfed lowland variety in South Asia. But it is getting hard to replicate this achievement; a first and even a second generation of improved varieties has now been widely adopted in many rainfed areas, and it is difficult to make significant improvements on these farmer-preferred cultivars by using only parents from other regions. Parents should be chosen carefully to fulfill the objectives of the breeding program.
Use at least one adapted, farmer-preferred parent
In an earlier lesson it was noted that successful rainfed rice breeding programs have very specific objectives, and often aim to develop a replacement for a currently popular variety. For example, a program may wish to replace a popular variety having one or more defects with one of similar quality and adaptation, but with improved lodging resistance or shorter duration. It follows from this that crosses should generally be between locally adapted and preferred lines and donors carrying the traits that are to be improved in the current variety. Often, a to the adapted parent is advisable, in order to increase the frequency of progeny lines with appropriate plant type and quality.
In general, the donor line should be as high-yielding, high-quality, and adapted as possible while still expressing the trait of interest. It is very difficult (but sometimes necessary!) to use parents that are agronomically poor or of unacceptable quality as donors and still recover useful recombinants.
For example, the African landrace 'Moroberekan' is highly drought tolerant, but it is also tall, prone to lodging, and very low yield potential under irrigated conditions. Many efforts have been made to use this cultivar as a source of drought tolerance, but very few varieties acceptable to Asian rice farmers have resulted. Several cycles of "pre-breeding" are likely to be necessary before unadapted materials of this type can be used. Using non-adapted donors is especially difficult if the trait they contribute is controlled by several genes. If the trait is controlled by a single gene whose location is known, it can be incorporated into the adapted parent via marker-aided selection (MAS). The submergence-tolerant landrace 'FR13A' is an example of such a donor. Although it is agronomically poor, its high level of submergence tolerance is largely due to a single gene, Sub1, whose location has recently been mapped with very high precision. This is allowing MAS to be used to move Sub1 from the donor into adapted cultivars via backcrossing.
Focus on quality
Special care should be taken to ensure that at least one parent in each cross should be of the quality preferred by farmers in the TPE. Crosses between two low-quality parents should usually not be made, unless the objective is pre-breeding, or the development of a "stop-gap" variety to overcome an extremely serious pest or disease problem.
In some situations, where cooking and eating quality is an overriding factor in variety acceptance, it is likely that repeated backcrossing to the high-quality parent will be needed before selection is started. This has been the case in northeastern Thailand, where the dominant non-glutinous variety for over forty years has been the variety 'KDML-105', a high quality jasmine rice much sought-after in export markets. The variety has many weaknesses, including susceptibility to blast and lodging, but it has proven very difficult to replace it because most derivatives of crosses between 'KDML-105' and agronomically superior lines have not had high enough quality to be attractive to farmers or millers, even when they were much better agronomically. Recently, IRRI and the Thai national program have mounted a large backcross breeding program with 'KDML-105' as the recurrent parent.
What kinds of crosses are most likely to produce superior lines?
Two-way, three-way, and double crosses
Breeders often formulate crosses to ensure that all the desirable characteristics they are seeking will be present in the resulting segregating population. This means that breeders mainly use 2-way crosses (crosses between 2 pure lines), 3-way crosses (crosses between pure lines and an F1, also called topcrosses), and double crosses (crosses between two F1s). 3-way and double crosses are used when the breeder wishes to combine a complex set of traits, usually disease, pest, or stress resistances, that cannot be found in any two lines.
Some varieties have been successfully developed from such crosses. However, all complex crosses, and even conventional 2-way crosses, have a major disadvantage in that they break apart favorable linkage blocks that have been painstakingly assembled through previous cycles of crossing and selection. The probability that the complex package of genes that makes an elite rice cultivar will occur by chance in the progeny of a double, 3-way, or even conventional 2-way cross is very low. This is why rice breeders tend to use large F2 populations for their initial selections.
Backcrosses
Backcrossing is usually considered to be a strategy suitable mainly for introducing one or a few disease or insect resistance genes into an elite cultivar. Many breeders make few backcrosses in their main cultivar development programs, but there is strong evidence that backcross populations should be used more often in rainfed rice breeding. Because the excellent performance and quality of elite pure-line cultivars is the result of very complex combinations of alleles at hundreds or even thousands of loci, breeders should use crossing strategies that keep these gene combinations largely intact, but that still allow the introduction of a few favorable genes.
Backcross populations allow breeders to make incremental improvements in an elite, adapted variety used as a recurrent parent by introducing a relatively small number of genes from a donor parent with some characteristics that complement the elite variety's deficiencies. BC1 or BC2 crosses can be used to generate segregating populations that have a high frequency of alleles and allele combinations from an adapted recurrent parent. BC Several important rainfed varieties have been developed from BC1 populations, notably the widely-grown south Asian variety Samba Mahsuri (RP5/Mahsuri//Mahsuri).
Recently, the IRRI breeding program has successfully used backcross methods to improve several elite cultivars, retaining their favorable features while improving them in several important respects. In collaboration with the Thai national program, a BC2 derivative of the high-quality rainfed rice cultivar KDML 105 was developed after selection in the BC1 and BC2 generations for the blast resistance and early maturity of the donor and the quality of the recurrent parent. This high-quality, short-duration line will be highly suitable for drought-prone upper fields where it is currently very risky to grow any of the high quality Thai rices.
Another promising application of the backcross breeding approach at IRRI is selection for drought tolerance in BC2 populations in the Molecular Breeding Program (so-called because DNA markers are used to track the introgression of donor segments into the recurrent-parent background genotype). In this experiment, the recurrent parent was IR64. Several different donor lines were used. BC2 populations were created by crossing 20-25 BC1F1 plants back to IR64. BC2F2 plants, with 87.5% of their genes derived from IR64 and 12.5% from the donor, were then screened under severe drought stress applied at the flowering stage as illustrated below: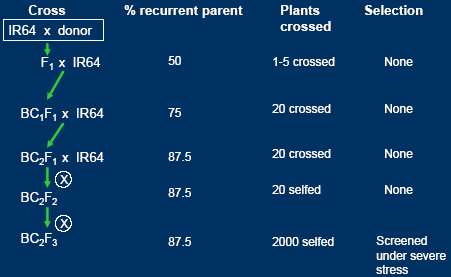 BC2F2-derived F3 lines selected from BC2F2 plants that set seed under severe stress exhibit significantly improved yield under drought stress, but, because they are 87.5% derived from the recurrent parent, are usually similar to IR64 in yield and quality under non-stress conditions. The screening of BC2-derived populations is somewhat difficult, because many crosses of the segregating BC1F1 to the donor are needed to ensure that all donor genes are represented in the BC2F2 population that undergoes selection. But much of the benefit of the scheme might still be derived if selection were initiated from the BC1F2 instead. Selection under stress in BC populations is a promising way to improve stress tolerance in elite rainfed lowland backgrounds, while retaining most of the favorable features of the original recurrent parent.
How many crosses to make?
The number of crosses made by a breeding program will depend largely on the resources it has available. Breeders often feel they need to explore many crosses, but careful choice of parents can reduce the number of crosses needed. Several breeding programs have achieved success using a small number of very diverse crosses, in which very large F2 populations were screened. For example, J. Witcombe and collaborators in India and Nepal have developed several popular, locally-adapted varieties by crossing the short-duration upland variety Kalinga III with the irrigated variety IR64, and screening large populations with the participation of farmers in different environments (Witcombe, 2002).
An intermediate approach, where a moderate number (10-30) of carefully-chosen crosses is explored each year through the use of large F2 or BC1F2 populations, is probably optimal for small rainfed breeding programs.