2. Mechanisms of Submergence Tolerance
Under flash flooding, few characters were identified as playing a key role in submergence tolerance in rice, the most critical are:
maintenance of high carbohydrate concentration,

optimum rates of alcoholic fermentation and

energy conservation by maintaining low elongation growth rates during submergence.
Protective mechanisms as the upregulation of antioxidant system and low synthesis or sensitivity to ethylene during submergence were also found to be useful.
2.1 Stem Carbohydrates
Carbohydrate concentration before and during submergence has long been recognized as an important factor in submergence tolerance in rice. For example a strong positive correlation between carbohydrate concentration prior to submergence and tolerance to submergence is commonly observed.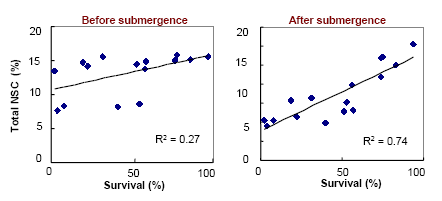 The carbohydrates remaining after submergence is more important than that before submergence
Studies using techniques that alter the concentration of carbohydrates before or during submergence support the significant role carbohydrates plays during submergence e.g.
(a) Reduction of light intensity by shading, increasing water turbidity or water depth reduced survival,
(b) time of day submergence which affect the diurnal cycle of carbohydrate concentration,
(c) CO2 supply which affect underwater photosynthesis
(d) seed size; high correlation observed between carbohydrate level and anoxia tolerance of rice seeds
(e) seedling age as older seedlings having higher carbohydrate levels and better survival.
Genetic variability in stem carbohydrate content is present among rice cultivars, but greatly influenced by growth conditions before submergence. Selection of genotypes with high stem carbohydrates and with greater ability to conserve it during flooding could provide an increment of submergence tolerance as our recent studies indicated that the level of carbohydrates remaining after submergence is more critical for survival.
2.2 Alcoholic Fermentation (Anaerobic respiration)
Alcoholic fermentation (AF) is one of the major metabolic adaptations that plants assume when they are submerged or faced with lack of oxygen. Under anaerobic conditions aerobic respiration shift to a less efficient anaerobic fermentation to provide energy and sustain plant life. Although the amount of ATP (Adenosine triphosphate) produced by this process is very small (5%) compared to ATP produced through aerobic respiration, it is still vital for survival. For rice, this pathway is probably important both under anoxic as well as aerated floodwater where boundary layer limits diffusion of O2 in water and may result in anoxic conditions within tissues. The importance of increased rates of AF during anoxia for plant survival has been demonstrated by several experimental observations.
Examples of these:
(1) enzymes of AF often increase under flooding
(2) hypoxia pretreatment increased tolerance to anoxia and presumably the induction of AF enzymes
(3) Mutants lacking ADH die more quickly under anoxia
(4) rates of AF are related to the tolerance of several species to flooding or water logging
(5) high sugar supply improved survival, presumably due to continued functioning of AF.
Besides, recent studies with rice plants overexpressing PDC gene (pdc1) further confirmed the importance of AF during submergence. Transgenic lines showed higher activities of PDC enzyme, higher ethanol production and better survival after submergence
2.3 Stem elongation
Under flash flooding stem elongation is not enviable and limited stem elongation growth is found to be associated with cultivars ability to survive flash flooding. This is probably due to energy conservation during flooding for maintenance and survival processes. A strong negative correlation between percent survival and elongation growth is commonly observed.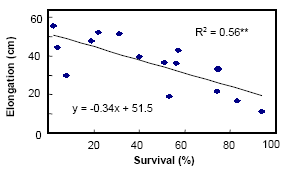 There is a strong negative correlation between elongation ability and survival
Submergence tolerance of sensitive cultivars was substantially improved when underwater elongation is minimized by application of a gibberellins biosynthesis inhibitor, paclobutrazol. Addition of GA increased elongation and reduced survival of even submergence tolerant lines.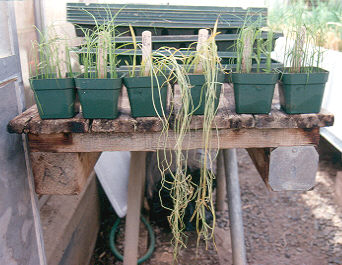 Submergence tolerance and shoot elongation:
The 2 samples both on the left and the right show submergence tolerance, the 2 samples in the middle are sensitive to submergence.
2.4. Aerenchyma Formation
Aerenchyma comprises gas filled spaces within plant tissue and is considered essential anatomical adaptive trait for survival under flooded conditions. Sufficient substantiation of its role in submergence tolerance was presented by several experiments, in providing a diffusion path of low resistance for the transport of oxygen from shoot to roots in waterlogged soils as well as diffusion of volatile compounds produced in anaerobic soils and plant tissue. In rice the formation of aerenchyma occur both in roots and shoots to provide a continuum from root to shoot
2.5 Role of Ethylene generated during submergence:
Submergence-intolerant cultivars usually showed increased levels of leaf chlorosis followed by seedling death during submergence. Ethylene produced during submergence trigger leaf senescence that reduces seedling survival.
This was proved by using an ethylene inhibitor, 1-methyl cyclopropene (MCP). MCP was used to evaluate the effect of ethylene on plant survival, chlorophyll content during and after submergence as well as on enzyme activity and gene expression of chlorophyllase, the first enzyme involved in the chlorophyll degradation pathway. MCP treatment decreased chlorophyll degradation, lowered the activity and gene expression of chlorophyllase enzyme, and improved survival in IR42, a submergence sensitive variety. Retention of chlorophyll by inhibiting ethylene synthesis and action may have improved underwater photosynthesis and provided carbon reserves needed for maintenance metabolism.
Manipulation of ethylene synthesis or sensitivity through molecular approaches may help improve tolerance to flash flooding in rice.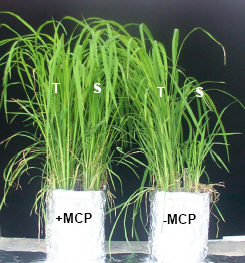 Ethylene gets generated during submergence. Blocking ethylene decreases chlorophyll degradation, increases sugar and starch content and improves survival. (T= tolerant; S= sensitive)
2.6 Post Submergence Events
Upon recedes of water level after complete submergence, plants are subjected to both high light intensity and higher oxygen levels. Visual symptoms of injury normally are not evident immediately after desubmergence, but develop progressively during post-submergence.
This post-anoxic injury is caused by generation of reactive oxygen species and toxic oxidative products as acetaldehyde. Oxygen is one possible source of active oxygen species. When O2 gets reduced one electron leaks out from the electron transfer system converting it into superoxide anion (O2-), which in turn produces more active O2 species as hydrogen peroxide (H2O2) and hydroxyl radical (OH.). These highly reactive oxygen species can oxidize unsaturated fatty acids in cellular membranes and intercellular organelles.
Recent studies showed that levels of H2O2 and malondialdehyde (a product of lipid peroxidation) were lower in the tolerant cultivar both during and after submergence. This was associated with higher levels of reduced ascorbate antioxidant and activities of enzymes involved in the regeneration of antioxidant metabolites, suggesting the involvement of active oxygen scavenging species in lowering the harmful effects associated with oxygen reentry. Moreover, high light intensity during recovery aggravated the damage due to submergence especially in the intolerant lines.