4. Drought screening environments
1. Artificially create stress in the "normal" growing season: avoids genotype x season problems, excluding water is costly/difficult (reproducibility). But no control of stress occurrence (timing, severity and duration)
2. Manage water-deficits in a non-growing season: application of uniform, repeatable and controlled stress environment, possibility to maximize genetic component of the observed variation. BUT the extrapolation of results to 'natural' target environment can be difficult.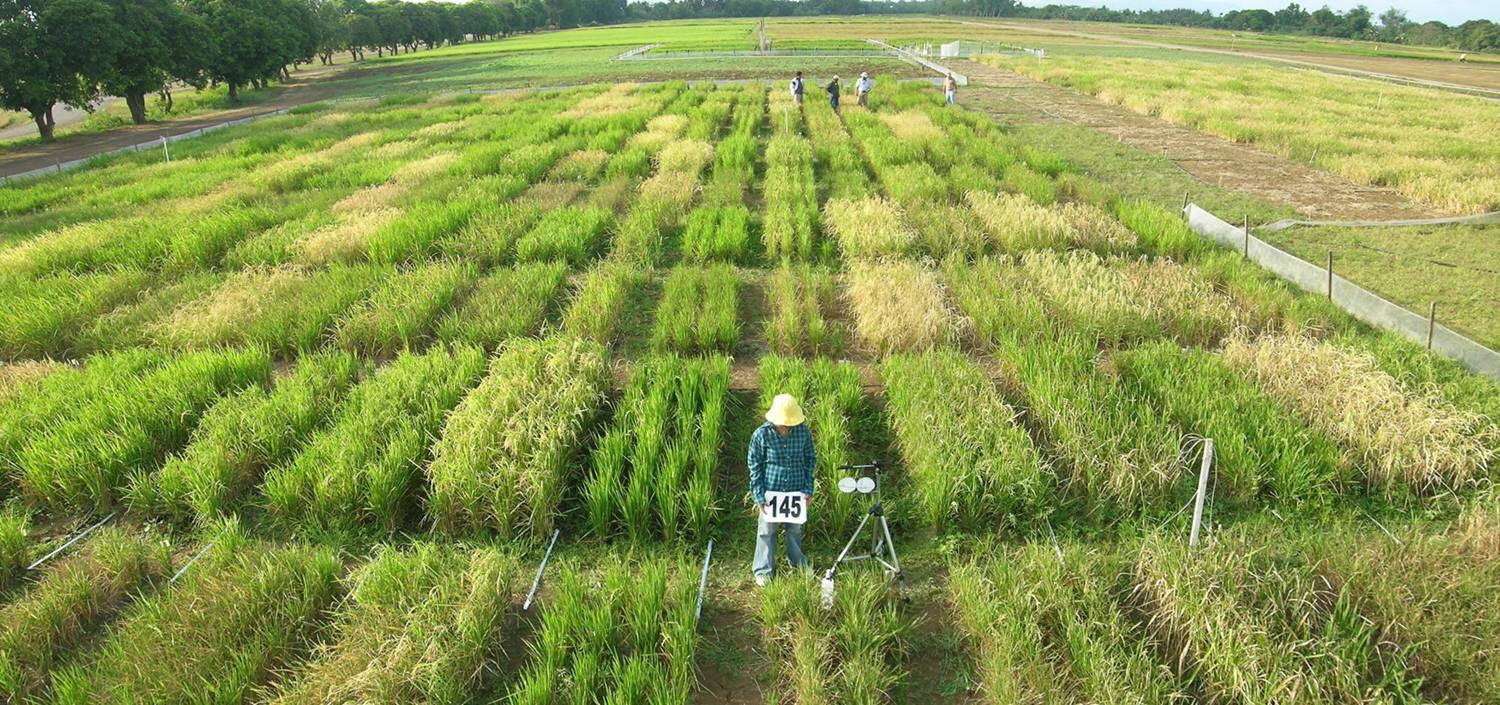 Drought screening experiment, using drip irrigation at IRRI upland station
(Dry season 2006)
The main objectives of a screening system should be:
(i) Focus on target environment and adaptation to major stress constraints
(ii) Minimize problems in detecting heritable differences in drought resistance (DR)
(iii) Yield under stress is as function of: yield potential, escape, and drought response, therefore the use drought-response index (DRI) can help to distinguish DR from escape and yield potential
(iv) Ultimately, DR should be viewed as the ability to maintain yield components in stress compared to non-stress: maintenance of grain number, grain size, biomass, yield, harvest index.
In addition, screening system should:
(i) differentiate among genotypes: degree of yield reduction (+ 50%), manage 'escape' effects, use period of max evapotranspiration (ET)demand, time initiation of stress carefully, adjust for differences in escape,
(ii) apply uniform stress (drought nursery approach): "uniform" soil water profile, uniform pre-stress crop growth, water application & water use,
(iii) be repeatable: with standard planting time and management procedures, initiate stress by phenological stage, stable water use environment, dedicated field facility, well-established management practices
Screening systems should also take into account the following parameters/criteria: variations in crop phenology and morphology, the growth stage at which stress occurs, the severity and duration of stress, the management options and levels (e.g. fertilizer applications), the plot size and experimental design, all potential interacting factors such as biotic and other abiotic stresses (e.g. temperature), crop quality and economic factors.