Identification of Sources of BB Resistance
1. Field Test
In the 1980s, screening for BB resistance at IRRI was initiated through the GEU (Germplasm Evaluation and Utilization) program by evaluation of diverse germplasm collection to identify sources of resistance to bacterial blight. Germplasm accessions showing resistant (R) to moderately resistant (MR) reaction to race 1 (avirulent to rice carrying Xa4, xa5, Xa7 at booting stage, and Xa21) were selected and subsequently planted in BB General Screening Nursery (BB-GSN) for confirmation. Currently, this has been replaced by using well characterized elite lines and commercial varieties as parental lines (Fig 1).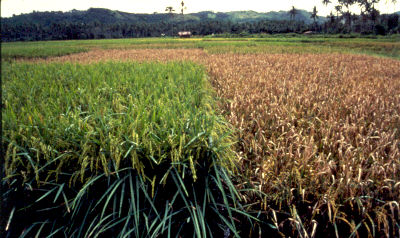 The types of BB resistance identified in the rice germplasm are:
Seedling resistance (overall resistance) --- resistance expressed from seedling to mature plants, and usually governed by major genes; show specificity of reaction to certain races of the pathogen.

Partial resistance --- non-specific resistance controlled by several to many genes with quantitative effect.

Moderate susceptibility --- moderate level of susceptibility to any race of the pathogen

High susceptibility --- lack of resistance to any race of the pathogen

Adult plant resistance --- resistance effective at mature plant stages only
2. Greenhouse/Screenhouse Test
Selections from the BB-GSN or other studies are further evaluated in the greenhouse/ screenhouse to test for broad-spectrum resistance against existing Xoo races.
A. To test for seedling or overall resistance, plants can be tested at seedling stage or maximum tillering stage. At least 10 seedlings of each germplasm accession are sown in seedboxes and inoculated at 21 DAS with existing Xoo races. Evaluation of resistance is done at 10 DAI using % diseased leaf area (DLA) following the Standard Evaluation System (SES) for rice. To evaluate accessions at maximum tillering stage in the greenhouse/screenhouse, three plants per isolate per replication are grown till 45-50 days after sowing and inoculated with existing races. Plants are scored for severity of lesions using lesion length measurement or % DLA based on SES. Germplasm accessions carrying major gene(s) show high level of resistance to a race or several Xoo races.
Usually, accessions showing broad spectrum resistance carry two or more resistance genes.
In the screenhouse, accessions are grown in rows until maximum tillering stage and two plants per isolate are inoculated with existing races. Evaluation of resistance is based on lesion length measurement or % DLA.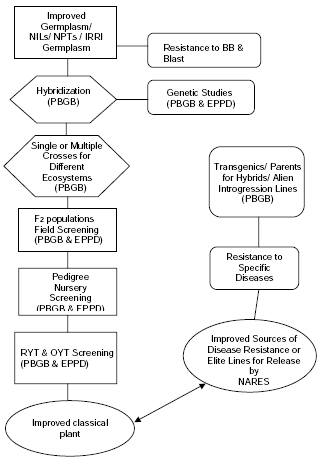 Fig. 1. .Scheme currently used at IRRI for screening resistance to bacterial blight and blast.
B. To test for adult plant resistance, inoculation is done at reproductive stage by clipping the flag leaves and leaves beneath them using existing Xoo races. One pot is inoculated with one race, and serve as one replication. Scoring is done at 14 or 21 DAI using SES scale.
Germplasm accessions showing broad-spectrum resistance are nominated to the breeders as donor for BB resistance. Through inheritance studies and allelism test, 26 genes have been identified, and all have been transferred into the background of IR24. Twenty one of the genes were identified from landraces, three from wild rice species (Oryza longistaminata, O. rufipogon, and O. minuta) and three were mutants. The near-isogenic lines (NILs) and gene pyramids carrying two or more resistance genes are currently available for rice breeding programs (Table 1).
The NILs are also employed to determine the functional diversity of the BB pathogen population in different rice growing countries in Asia. With the availability of unique resistance genes, identification of new avirulence genes in the pathogen population is possible in many rice growing areas worldwide. It is possible to predict durability of resistance genes using molecular genetics of the bacterial pathogen.