What is a mechanical dryer?
A mechanical way to remove the water from wet grains by blowing (heated) air through the grain. This drying is done until the grain has the desired moisture content.
Most dryers have the following components: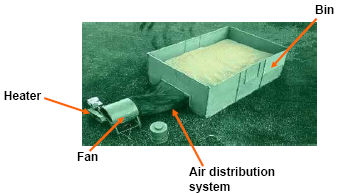 What is the difference of mechanical drying with sun drying?
Mechanical drying has some advantages over sun drying:
Better control over the temperature and moisture content

Drying can be done day or night

Less labor (especially if mixing is mechanical e.g. re-circulating dryers)

Mechanical drying will lead to more even drying of grain and higher milling yield and head rice recovery.
Since rice quality is becoming more important to rice consumers, medium-sized grain dryers have become a common sight throughout Asia. For production of premium quality rice or seed, mechanical drying with heated air dryers is highly recommended.