Two cutting methods: by hand or by machine
1. By hand:
The most common method for harvesting rice in Asia is the manual system - by hand.
The rice crop is cut using simple hand tools: sickles cutting 15-25 cm above ground level, or hand-held knives to cut just below the panicle. The harvested crop is sometimes bundled to improve handling and transport.
The manual system of harvesting is very effective in lodged crop conditions, however it is labor intensive. Manual harvesting requires 40 to 80 person-hours per ha. It will take additional labor to collect the harvested crop.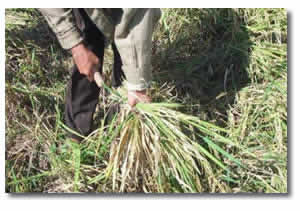 Cutting with a sickle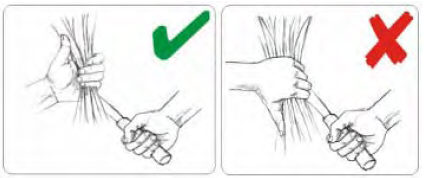 When cutting crop with a sickle, always hold the stems with thumb pointing upwards, away from the sickle.