How do I best control diseases?
There has to be a proper diagnosis of the disease before action against it is undertaken. Because the effectiveness of one method alone may be limited, it is best to control a disease by using a combination of things.
1. Choosing disease resistant varieties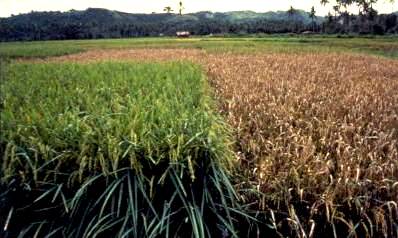 Varieties resistant (left) and susceptible (right) to bacterial blast
In modern rice production, disease resistance in the host plant has played an important role in protecting the crop from diseases such as bacterial blight, blast, grassy stunt, and tungro.
Potential sources of resistance may be obtained from cultivars and wild relatives of rice. For example, about 15 genes each for bacterial blast and bacterial blight resistance have been identified from Oryza sativa, the cultivated Asian rice, and from wild relatives. Resistance has been transferred from Oryza minuta, a wild relative of rice, to cultivate rice through conventional and biotechnological methods used in plant breeding.