1. Rice as a global staple food
Rice, wheat, and maize are the three leading food crops in the world; together they directly supply more than 50% of all calories consumed by the entire human population. Wheat is the leader in area harvested each year with 214 million ha, followed by rice with 154 million ha and maize with 140 million ha. Human consumption accounts for 85% of total production for rice, compared with 72% for wheat and 19% for maize.
Rice provides 21% of global human per capita energy and 15% of per capita protein. Although rice protein ranks high in nutritional quality among cereals, protein content is modest. Rice also provides minerals, vitamins, and fiber, although all constituents except carbohydrates are reduced by milling.
The world average consumption of rice in 1999 was 58 kg, with the highest intake in some Asian countries; Myanmar has the highest annual consumption at 211 kg/person. Rice eaters and growers constitute the bulk of the world's poor: according to the UNDP Human Development Report for 1997, approximately 70% of the world's 1.3 billion poor people live in Asia, where rice is the staple food.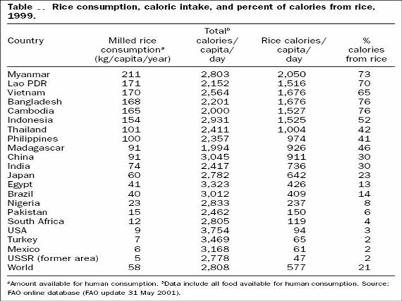 The table shows that in many south-east Asian countries,
rice makes up a big proportion of the daily diet.