What is a seedling nursery?
If we use the transplanting method rather than the direct seeding method for crop establishment, we need to produce seedlings. These seedlings are produced in a nursery.  
Seedling nurseries use 15 to 20% of the total farming area. In preparing the nursery seedbed, the surface needs to be level, free of weeds, and well drained. Low rates of nitrogen and phosphate fertilizer can be applied to the nursery.
Usually seeding rates vary from 400 to 800 kg per hectare of nursery depending on locality, soil type, and seed quality.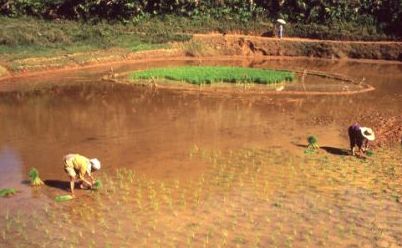 Transplanting seedlings. The nursery is in the background.
Different nursery systems
The choice of a particular nursery system depends on the availability of water, labor, land and agricultural implements.
There are 4 nursery systems for transplanting:
the wet-bed nursery

the dry-bed nursery

the dapog or mat nursery

seedling boxes for mechanical transplanting