How can you get the land leveled?
A. By draft animals,such as buffalo and oxen, and 2-wheel tractors using harrows and leveling boards.
These leveling techniques require total water coverage of the field and require 7 to 8 days for a 2-wheeled tractor and 12 days per hectare of land using draft animals.
Land levelling with draft animal (left) or hand tractor (right)
B. By a 4-wheel tractor using rear mounted tractor blades or drag buckets. 4-wheel tractors are very effective for leveling both wet and dry fields. Wet fields are best leveled with a rear-mounted tractor blade. Dry fields are best leveled using hydraulically operated drag buckets.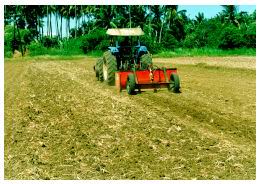 Major land leveling usually involves moving dry soil using "buckets"
Tractor work rates are dependent on the tractor's capacity and the amount of soil to be moved. It takes approximately 8 hours to level 1 hectare with a rear mounted tractor blade. This reduces to about 4 hours when using a drag bucket.  
C. By a 4-wheel tractor with a laser-controlled bucket. The use of laser controlled equipment results in a much more level field – up to 50% better than leveling using other techniques.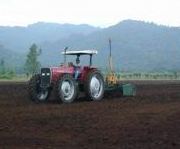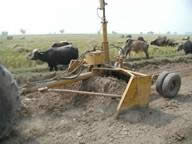 Leveling using a laser guided bucket on dry soil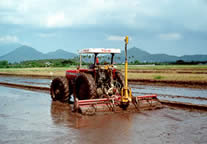 or a laser guided blade on wet soil
Laser leveling systems are commonly used in agricultural applications in Australia, Japan and the United States. Increasingly, laser guided systems are being used in lesser developed country contexts as well. Using laser leveling results in a much more level field because accuracy can be improved by as much as 50% compared with the other systems.

The laser directs the tractor's bucket up and down
A laser transmitter transmits a laser beam, which is intercepted by the laser receiver mounted on the leveling bucket. The control panel mounted on the tractor interprets the signal from the receiver and raises or lowers the bucket. This way the soil gets shifted to the right places to make the entire field level.