2. Secondary tillage
Secondary tillage is any working completed after primary tillage and is undertaken for
Secondary workings are usually shallower and less aggressive than primary tillage. In the animal powered system, the second working is normally undertaken with the moldboard plough when the field is fully saturated. The final workings are then completed using to puddle the soil and leave the surface level and ready for planting.
In 2-wheel tractor systems, the moldboard, the disc and the are used for second working. In some instances peg tooth harrows are also used if rotovators are not available. Cage wheels on the tractor are needed for traction in all soil types and these also help puddle the soil.
In 4-wheel tractor systems, , seven-disc ploughs, offset disc ploughs and rotovators are the most commonly used equipment for second workings. In this system, fields are either mechanically puddled with tractors using a rotovator and leveling board or by tractors fitted with large cage wheels and harrows.
Normally 2-3 secondary workings are done after primary tillage and before planting but this will depend the cloddiness of the soil, the number of weeds, the need to incorporate fertilizer and the need for puddling. It is common in many countries for the first two workings to be undertaken using tractors and the final working done by animals and harrows.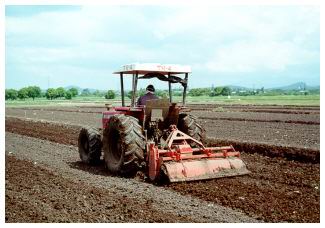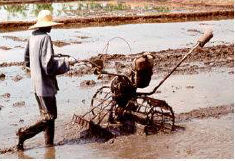 Secondary tillage using a rotovator (left), harrowing operation (right)
Puddling is the working of the soil in a totally flooded state to realign soil particles in a manner that will reduce the water penetration and leave the surface level for crop establishment. It is normally done using tractors and or animals and .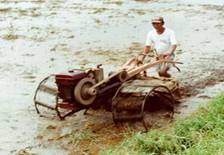 Puddling by a 2-wheel tractor