2. What is a hybrid?
A hybrid is the product of a cross between two genetically distinct rice parents. When the right parents are selected, the hybrid will have both greater vigor and yield than either of the parents. Hybrids have been released in China, India and the Philippines.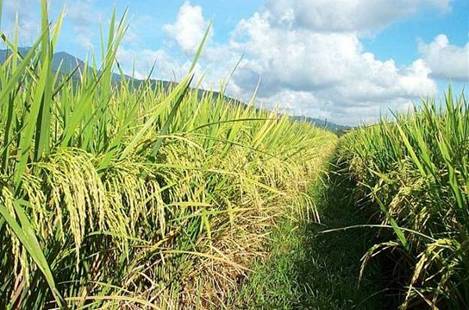 Hybrid rice (left) has a bigger yield than inbred rice (right)
The advantages of hybrid rice are:
Increased yields

Increased vigor (which makes them more competitive with weeds), and

Increased resistance to diseases and insects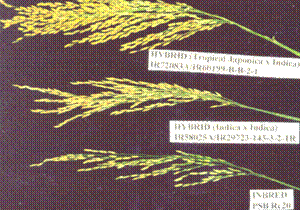 Hybrid rice panicles (2 on top) and panicle from an inbred (below)
The disadvantages of hybrid rice are:
Seed is expensive, and

Farmers can not use their seed from the past season like they can with inbred rice. Seeds harvested from the hybrid plant are not recommended for replanting because the hybrid vigor is lost because of . This results in a lower yield, so farmers must buy new hybrid seed every year.
Click here to learn more about
how to produce hybrid seed.